"A story from the heart.  A must read for everyone.
Have the Kleenex ready."
Whitney, USA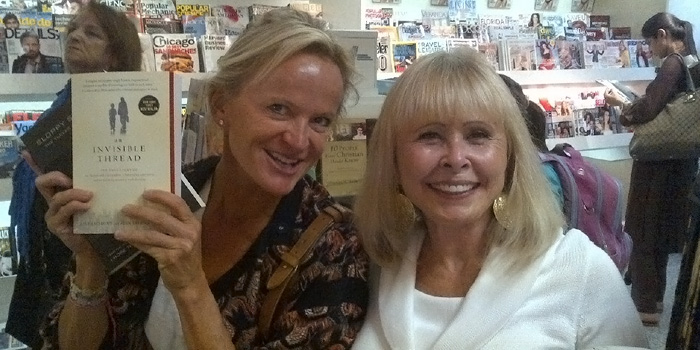 In the few weeks since An Invisible Thread was published in November 2011, we've heard from so many readers who were moved and inspired by our story. It is my honor to share some of those stories with you, and I thank you all for believing that each of us is forever bound to someone by an invisible thread.
Dear Laura,

I was so touched by the "love" in this book. We can't choose our family. Just at some certain moment we realize how our childhood have shaped our later adult life. There is some healing power in this book that inspires me so much. I am glad that I bought this e-book from Amazon and had a wonderful reading experience. Thanks for sharing this story with us.

Nancy Taiwan
Dear Mrs. Schroff,

My name is Alexandra Raissipour and I am a 15 year old student. We met on September 27, 2012 and I was one of the lucky students who got to meet you at the Ruby Slipper Gala. When we had talked, you had asked me to read the book and then tell you what I thought about it. Just like you asked, that is what I am doing now. I had started reading the book that night and just finished it. Your book has put my life into perspective. I always knew that I was very lucky and fortunate and that I was grateful to have parents like the ones that I have. But, I never realized how truly fortunate I was until I read your book. I loved it. Page after page I couldn't put the book down. My parents had to tell me to stop reading (which hardly ever happens because I am not a big reader). But once I had heard your story I knew I had to read about it for myself and learn everything. Everything that you did for Maurice is incredible and I hope someday to make an impact on someone's life like that. After reading this book, you've became one of my biggest role model. Although there were parts of the book that did make me upset, such as the Thanksgiving and Christmas you spent without him, it also made me realize that this book is a TRUE story and that it isn't always happy. Your book has changed my life for the good and I hope that someday I can do something as good. Thank you so much for sharing your story with me and the rest of the world. I enjoyed it so much!

Alexandra Raissipour
Dear Laura,

Even now, nearly a week after you and Maurice spoke to our entire student body and faculty, I hear praise for your presentation. Thank you both for the time and effort you put into it.

As you know, we required our juniors and seniors to read An Invisible Thread over the summer. So many of them remarked on how touching your book was and how impossible it was to put down. But what I found so interesting about your presentation last week was that so many of our younger students, who had not been required to read the book, were enthralled by your talk.

We are a Catholic college preparatory school that educates 343 young women in academics and in social justice. We encourage them to right the wrongs the world inflicts on many of its people and not to take the easier approach of ignoring them. The story of An Invisible Thread is a great lesson in that. You and Maurice made the story that much more real to our students. I could not have been more pleased.

I know that they were moved by your talk and that it meant something to them. They sat quite still for nearly an hour during your speeches; and then, when you offered to sign their books, so many of them brought them to you (or went to their lockers to get them). Believe me; that was a sign that your book and talk had real meaning for them.

We at Mount Saint Dominic Academy are grateful that you were willing to take the time to speak to us. You helped us get our new school year going in a very good direction.

May God continue to bless you and Maurice.

Sister Frances Sullivan, OP Head of School
Hello Laura,

I just finished your book and can't stop crying. This story makes me want to change the world ten times more than I did before opening the book. I have always been someone who wanted to help others, but this book really gave me the extra boost. I am only 21 years old but I hope to be someones rock like you were for Maurice.

My best friend passed away at the age of thirteen and oddly enough her name was Laura. Ever since she died I have had trouble establishing relationships with people, especially finding people my age that care about morals and doing good, more than partying. Its hard to find friends especially living in Los Angeles where most kids my age want to do is drink or do drugs. After reading this book, I realized how important it is so establish relationships with people, real ones, deep ones. And I decided that I will try to do what you did, with another child or person, because those relationships mean more than the ones that don't have depth. I feel that your mother really did send you Maurice to complete the void of never having a child and to unite two people from opposite worlds so that they would change the world and make it, even if a small amount, a little better. I think your reason for being on earth and Maurice's reason was so you guys would meet and share something so special and you guys are very lucky to share that.

I loved your book and I love who you are. Thank you so much for writing this. You don't realize it but you don't only change Maurice's life, you changed the people who read this story.

Alexandra
Hi Laura,

I wanted to tell you how affected I was by your book. I was so inspired by the book, it made me realize I don't do enough to give back myself. Funny, God sure puts things in your heart. About 2 months after reading the book, I was in a grocery store and came upon a mother of three who clearly was struggling financially. The oldest son was using a calculator to determine how much money they were spending on their groceries. I heard God tell me to stop and offer financial assistance, but I just walked past them. I saw them again during my shopping and again intended to just walk past them, but God pushed harder this time and I finally stopped and offered to buy their groceries. The mother was so surprised and clearly moved by my offer. I purchased a $100 gift certificate, and when I handed I to the mother, she hugged me. I was so moved by her sincere appreciation. I walked away, but then her two young sons ran up to me and hugged me and hugged me and hugged me and thanked me, they said it would really help them at this time. Needless to say, I began to cry. I was truly inspired by your story and I hope to continue to be able to give back myself! It is what life is all about.

Dru Sanchez
Hi Laura,

I think every one of us wanders around in our life in search of a purpose, or some type of meaning. Your book, An Invisible Thread, made me realize that I don't need to solve world hunger to make a difference. I have begun to find satisfaction in the small opportunities that arise. A few days ago, I was in line at the grocery store, and the woman in front of me with two children got all her many groceries bagged and ready to go, and then her debit card was declined. It was the only card she had, and the hopeless look on her face was enough to trigger something inside me. So I paid for her bill with mine. She insisted I follow her to the bank or take her number down so she could repay me, but I said it was okay. As I am sure you can understand, the personal satisfaction I felt was far more repayment than any amount of money. Laura, you have inspired me by sharing your story.

Chris Martin
WOW, WOW, WOW, what a story! Laura and Maurice, you both rose up against incredible odds, and I'm so glad you found each other. So glad you shared your story with us, too. Thank you.

Joan Nova Scotia
Laura opens her heart and her life to us in this book. It felt like a story I would hear in a coffee shop talking to a total stranger, the kind of story you can only tell to people you know very well or don't know at all. The kind of story that reminds us that things we see every day are extraordinary. An Invisible Thread is honest, touching, and inspiring.

Lauren Tacoma, Washington
I made the mistake of starting this book last night and I was up until the early morning hours finishing it. It was impossible for me to put it down. Beautifully written, unflinchingly honest, a book I will not soon forget. I will recommend it to everyone, but I will not part with my copy of this book.

Terri USA
I bought this book by accident while browsing through my new Kindle Touch. A few hours later, after finishing it, I realized there are no accidents in life, only lessons and messages to be understood. An Invisible Thread profoundly impacts more people than just the two special people in the book. It has helped me make an important decision to try and positively enlighten other people in my life and, perhaps along the way, enlighten myself. Thank you, Laura, and thank you, Maurice, for sharing your story.

J. Aqui Trinidad
I can't begin to tell you how much I LOVED your book!! It was so moving and inspirational! When I finished it, I gave it to my daughter to read, and she was moved to tears, too! Your book should be required reading for every adult person in the United States! It might help us learn how to care for each other. Thank you for writing your story!

Diane USA
Oh, I don't even know where to start. Let's see, I was engaged from the very first word of the foreword all the way through to the very last word. I was crying by page 2 (you'll need a box of tissues when you read this book). I smiled, I pondered, my heart broke, it was healed, and it broke again. Plain and simple, I loved it.

Christy Lehi, UT
I want you to know, I cried in this book. I laughed in this book. I stopped reading and did the happy dance. I stopped reading and took a moment to be angry. It was everything a book should be. And the fact that it is true makes it that much better. Thank you.

LLG22 USA
Your book positively proves that the very best stories are true! I'm only 100 pages in and I'm absolutely enchanted. I wish I could take a sick day so I could finish it in one sitting. I've been moved to tears with each new chapter. Thank you so much for sharing your story.

Heather Birmingham, AL
I read the pages forward and backwards, just to get more deeply immersed in the story. There were tears in my eyes many times while reading, but not so much of sadness as of the positive aspects. Simple and well-written, it is an easy read, start to finish, and well worth the time.

ChazW USA
I just finished your book (started last night and couldn't put it down) and my head and heart are full of emotions. Your courage and strength so overwhelmed me at times that I found myself filling up with tears. I was rooting for Maurice every step of the way. Thank you for sharing this incredible story.

Tara Long Island, NY
I bought your book on my Kindle and read it in one sitting. It's wonderful. I think I cried at least 20 times, especially at the end, when Maurice wrote you the letter. Thank you for sharing this story. You are a beautiful person.

Eric USA
Incredible, inspiring...whatever word you use to describe the story of Laura and Maurice, the fact is it hits your soul. The question for everyone who reads this book is, 'What are you going to do as a result of this story?

Pam USA
I have never read a book that had me crying after the first few pages and then smiling after the last page. I read this book in not even a day because I simply could not put it down. The bond and the love between Laura and Maurice just jumps off the pages. I am so thankful that I was able to experience this book. And thank you Laura and Maurice for sharing your story.

Sam Amarillo, Texas
Okay, here is the only problem with this book, if you start reading it in a bookstore, you won't ever buy it, because you'll read the whole thing right there! I wasn't able to put it down and read the entire book in Barnes and Noble! It's a beautiful book and I highly recommend it, it compelled me to try and be a better person.

VAreader507 Charlottesville, VA
I received a Nook for XMas, and for two weeks I searched for a book to read. I have not read a book besides my continuing education textbooks in more than 10 years. But then something made me buy your book, and from the first page I was hooked. Now, I can't stop talking about it and I have recommended it to many people. Thank you for sharing your story, it's going to be hard to find another book like yours to read.

Robert USA
This book was amazing. God has plans for us and it's important to listen when He speaks or nudges us. Laura definitely listened in a situation where many of us would have ignored God and said, "No way, not me." Great, true story!!!

Peg Holland, MI
I read An Invisible Thread in one sitting. The story leaves you with a sense of a higher power at work that brings people into our lives for a reason. I am humbled by all of the gifts of love I received in life. Deeply profound book that is a must read. Left me with an urge to do more with my life and appreciate the people I am lucky enough to have as friends. A real pay it forward story and very inspirational.

Dani Syracuse, NY
I received this book as a first reads. It was a wonderful, heart-touching story that really makes you think about all of the small gifts in life we take for granted. It also puts into perspective the hardships under privileged kids endure and how rare it is to overcome a doomed path of drugs, alcohol and poverty. I absolutely loved this book and would recommend it to anyone. It is a fast reader and draws you in immediately.

Michelle Greenville, NC
I loved this book! This story is so inspiring! Laura, you have said so many things that I have wanted to say about growing up in a tough family situation, but didn't have the words to say. We need to be acknowledge our pasts and how they will always be with us.

Sue Palatine, Illinois
My husband bought me this book for Christmas and I finished it today. I absolutely love it and I am buying it to give as gifts to my girlfriends. I smiled so much and also cried a lot. Everybody's blaming my hormones because I'm pregnant, but I was just so inspired and moved. Thank you for sharing your story.

Liliana Houston, Texas
I bought your book 2 days ago and can't put it down. I have been truly touched by your story and it brought me to tears. We too often get caught up in the 'bad news' and do not focus on the people out there who are making a mark in this world and changing lives. My oldest son is 11 yrs old and my youngest is 9 and I just can't imagine what Maurice went through.Thank you for this book...it's a story I will never forget!

Julie Clinton, Mass.
Just finished reading An Invisible Thread and was blown away. Phenomenal story about two even more phenomenal people. Laura, you must be so proud of what you cultivated in this most unique of friendships. Maurice is an incredible source of inspiration for those who have much to overcome. Thank you for writing the book and sharing one of the best true life stories I've ever heard.

Jim Green Bay, WI
I loved this book. It's a quick and easy read, but it's very touching. I was crying through several parts of this inspirational book. The way Ms. Schroff put herself out there to help change someone's life is incredible. I pray all of us have the strength & courage to reach out to others.

Diedre Michigan
I REALLY liked this book. It shows the power of what one simple gesture from one person can do to change the life of someone else. By simply reaching out...so many lives can be changed. Be warned: you will never look at someone begging on the street the same way after reading this book.

Kim Kearney, MO
Absolutely incredible book. I could not put it down, and am still crying "happy tears". I will carry this book in my heart for a long time to come. Thank you for sharing such an amazing story.

Lauren Dallas, Texas
Just finished this wonderful, heart wrenching book. I could not put it down! It tugged at my every emotion! God bless you all. I will never have another Thanksgiving Dinner without thinking of Laura and Maurice.

Barbara Clinton, NY
For five years I had a Little Sister, and though her circumstances weren't as dire, I know what the love of an adult can mean to a child. I hope your book inspires more people to step into the life of someone who needs them.

Lynn Seattle, Washington
This is a wonderful read. I couldn't put the book down. It's amazing this is a true story and it broke my heart. It also gave me hope and encouragement for all of us to touch another one's life.

Susan Goodreads